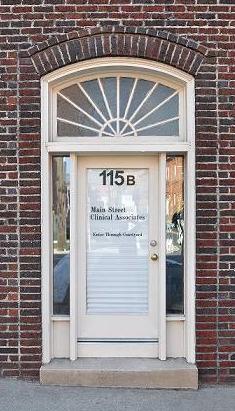 Secondary entrance directly on Duke Street
Main Street Clinical Associates, PA
115 North Duke Street, Suite 1-B
Durham, NC 27701
We are located on the corner of Morgan and Duke Streets. Select link below for directions or a map to our location, or to download our registration forms.
How To Get Started -
1) Schedule Initial Appointment by calling (919) 286-3453
To schedule an initial appointment, you may contact a specific clinician directly through his or her extension. Or, you may select extension 150 to talk with one of our clinicians about your specific needs and to help select the best fit for you amongst our staff. Our office staff do not schedule initial appointments or keep our clinicians' schedules. Please visit Our Staff for more information regarding our clinicians.
2) Will You Be Using Insurance?
Once you have made an appointment with a clinician and you are planning to use your insurance benefits, we suggest you contact your insurance company and ask the following questions:
Do I have mental health benefits on my insurance policy?
What is my co-pay for each session?
Is there a deductable that needs to be met?
Is pre-authorization required and if so, may I obtain it before I meet with my therapist?
What services are covered by my plan? (individual therapy, couples' therapy, medication management)
Is the therapist I am scheduled to see on my insurance panel so that he or she may be reimbursed?
Please note that we do not file for out of network benefits but will provide a statement for you to file to your insurance company for reimbursement.
At Your First Visit -
We suggest you arrive 10 minutes early for your first session to complete registration paperwork. You may also download our Registration Forms and fill them out to bring with you.
Please bring your insurance card so we may keep a copy on file. Our office staff will contact your insurance carrier to confirm whether you have a co-pay or deductible. We will obtain pre-authorization if allowed by your insurance company. We will file your insurance claims for you but co-pays and deductibles are due at the time of service.
Please feel free to call our office staff prior to your appointment if you have additional questions at (919) 286-3453 extensions 151 and 111.